Meet Jigawatt
The five W's* of everyone's favorite solar quoting tool
* just not in the order you're used to
What

is Jigawatt?

Integrated software for quoting solar and managing projects

Jigawatt is cool new tech for the solar industry. It's a single access point for doing all the things. It's a solar dealer's home in the cloud. It's a supercharged solar CRM where you can also...

... and so much more!

Jigawatt is offered as a monthly subscription by user, with a highly collaborative environment. It has customizable guardrails that allow your people to work together on the things they need to, without being burdened with the things they don't. In addition to the amazing streamlining and efficiency, it almost makes running a solar business fun!
Why

do I need Jigawatt?

Increased productivity in converting solar leads and installing systems

Of course, you don't NEED Jigawatt, at least not in a hunter-gatherer sense of the word. But if you have loftier expectations for life than mere survival, you're probably going to really want Jigawatt.

If you're running your solar business with a Frankenstein's Monster of all the available tech, you're not alone. This is pretty standard in the industry, and you'll really benefit from Jigawatt being designed, built, redesigned, and rebuilt specifically for the solar business.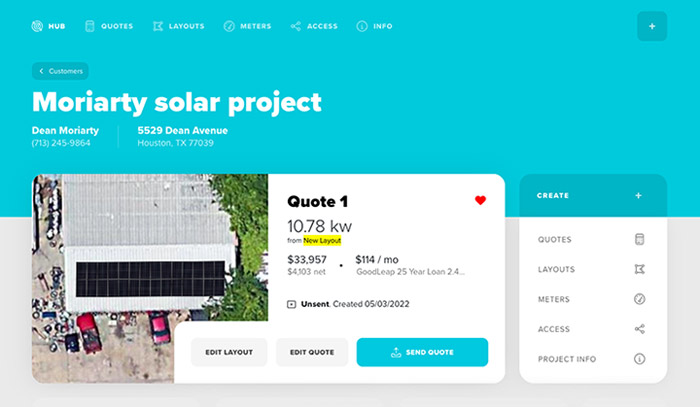 Who

is Jigawatt for?

Solar sales teams, project managers, and installers

Crafted very intentionally for the solar workflow, Jigawatt has highly intuitive, easy-to-use tools for designing layouts, capturing utility bills, quoting systems, and making solid analyses and value propositions for your customers.

Jigawatt has all the stuff you need to manage your leads and projects, so you have one continuous, self-contained process, thus eliminating that swivel chair effect between Typeform, Salesforce, Pipedrive, Excel, JobNimbus, some lame solar quote thing, and all the other apps you're juggling day in, day out.

Who, part deux
Who

was Jigawatt made by?

Built BY solar professionals, especially FOR solar professionals.

About the Jigawatt team
Where and when

can I get Jigawatt?

It's worth mentioning is that you actually can get it right now, even if you're reading this at 3am over a bowl of Golden Grahams. You don't need to schedule a demo, you don't need to sit through hard driving sales pitch before they'll even tell you what it costs, you don't need to wait for a costly implementation, and you don't even need to sign a contract!

Click here to sign up, and be basking in your brand new account (with a two-week free trial!) in a couple minutes. The Help Hub will guide you through configuring all the things, and you can get pretty much all the answers you need through the Docs and the community.
...and now for the
How

(much)?

We set a high bar for what we consider "market ready", and it hasn't been long since Jigawatt cleared that bar. Which means we're in early-adopter mode, with a price point to match! Anyone who's shopped solar software lately will probably feel like this is a pretty sweet deal, assuming it can do what we say it can (go ahead, give it a 2-week free trial!)

Companies who set up a Jigawatt account during SolarCon will enjoy a price lock for life. We can do that, because we don't have any bozo investors telling us to do evil business guy things.